This week's project was a beanbag to eventually go up to Oscar's bedroom. Until the rest of that is all sorted, it will stay down in the lounge with all his books. I found this cute pattern through Pinterest, though the original tutorial page doesn't seem to exist any more the cached pattern PDF download can be found by doing a quick google for "micheal miller bean bag chair tutorial" (at the point of writing this anyway). There are 2 versions; kiddy size and adult size. I made up the kids one using a $2 op-shop king sized sheet, a metre of winnie the pooh fabric and some calico scraps that I had lying around. Here's the result:
Finished, complete with cover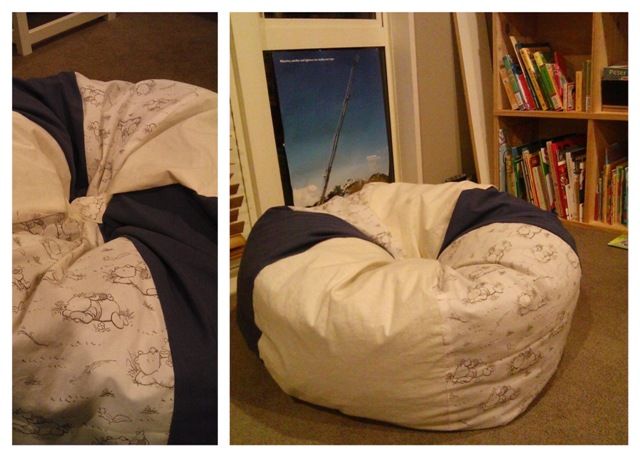 Oscar assuming the maximum relaxation position: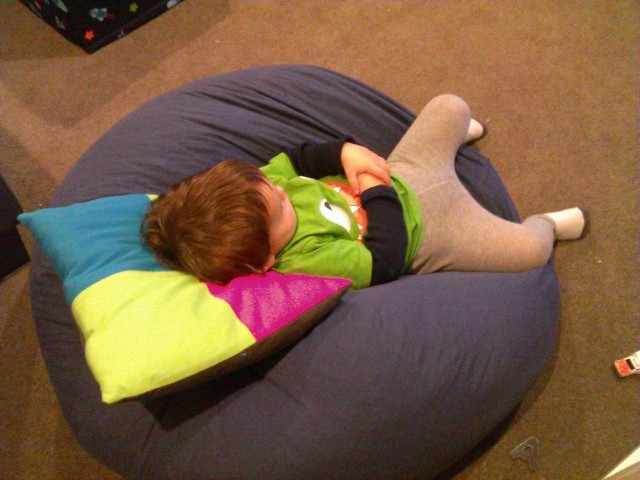 If I made one again, I'd add more beans. 100L just isn't quite enough for a firm beanbag and now that the inner lining is sewn closed I can't add more to this one without considerable effort. Still pretty happy with the outcome and looking forward to reading many stories from here.